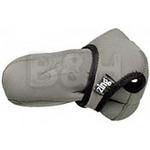 I had a wonderful surprise a couple of weeks ago, my boyfriend bought me a new Nikon D7000, with a 18-200 mm lens. I was totally blown away by this generous gift, and now I have this beautiful camera I wish to protect it. I have a standard camera case to haul it around in, but when I'm out on the trail I cannot carry that big bag and a backpack. I generally carry my camera around my neck, and have a case attached to the chest strap of my backpack that I can rest the camera in to take the weight off my neck, which also protects the camera and makes it quick to retrieve (for when I run into a black bear on the trail). I've been looking at a variety of holster cases, and the same things keep on coming up. Big name brands like Tamrac, Lowepro, MRock. I know these are good cases, proven, tried and tested, but I want something lighter and less bulky. I'm only 5ft 3/4 " tall, (yes, I have to mention the 3/4") and if I wear one of these big cases on my chest, I won't be able to see the trail front of me for several feet, and I'd hate to trip up with my new camera on my chest. I think that I'd be more likely to damage my camera with one of these cases than without it.

So I thought about what might work, and I decided that a form fitting neoprene case would be perfect. When I looked on line I was surprised to see quite a few of them, and they were definitely in my price range, some were even under $10.00 with free shipping. The problem I'm having is that none of them have a belt loop on them. If they had a belt loop on the bottom side of the case, I would be able to slide my chest harness through it, and hey presto, I'd have a super light-weight, non-bulky, form fitting holster case, that would protect my camera from gentle bumps, low hanging branches, dust, and even spitting rain. I imagine that because of the softness of the neoprene, maybe it would get pulled out of shape a bit, but I'm sure it could be fixed by adding some kind of reinforcement.

So here is what I'm thinking of doing; I think I'll buy one of these neoprene cases, and then take it to this lady I know who can work miracles with a sewing machine. My boyfriend has taken backpacks to her to re-design and all sorts of things, so I'm sure she'll be up to the challenge. I'm rather excited about this little experiment, and I promise I'll report back here with the results.

In the meantime, if anyone knows of a case that would meet the specs I'm looking for, please reply to this post, or send me an email. I really like to support a small company, rather than the big name brands when it comes to making purchases. I even skipped to page 55 and 89 in my Google search, in the hopes that I would find some off-brand camera bag that was unique. Years ago I found one that an individual had made that was a chest strap attachment for a backpack that held a camera, it even had a waterproof cover incorporated into it, but now I can't find that. What a shame.