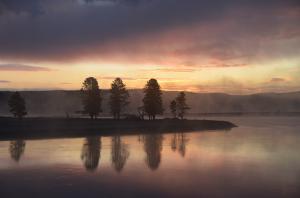 Yesterday I decided to drive up to Bear Lake in Rocky Mountain National Park. This fall has been VERY busy in the park, so I decided to wait until 3:00 PM in the afternoon, hoping that by then there would be some parking spots available in the car park. I also hoped that the lighting would be better, and that it would not cloud over too much as the weather sometimes has a habit of doing later in the day. It is that time of year when the aspens turn to gold, and orange if we're lucky, and I had word that they had 'turned' at Bear Lake.

There were tons of people, all snapping away at the shimmering display of golden leaves. There was a group of people with tripods and expensive looking cameras, all snapping shots from the trail. I wanted to get a picture of Long's Peak with aspens in it, and this was not going to happen from the trail, so I climbed up on the boulders, and into the aspen trees, and framed my photograph of Long's Peak with gold.

Bear Lake can be a very busy place, as I've already said. This causes a dilemma for myself. I like to take nature pictures without people in it, and I often find myself waiting patiently for a person to walk behind a tree, or just leave, and be out of my shot before I'll press the shutter. I had to wait a lot on this day! However, I finally managed to get some shots of Long's Peak and Hallet's Peak without people in it.

When I went over to the other side of the lake to see what everyone I'd been waiting for had been looking at, I saw a hillside covered in aspens of varying color, reflecting beautifully in the water. There was a problem though; the rocks surrounding the lake were covered with people sitting or laying on them, and almost every gap in the trees around the edge had a person standing there with a camera pointed toward me.
I settled down for what I knew would be a long, long wait.

There were a couple of Nikon, Canon, guys there, looking very professional and snapping away like crazy. "That is the one!" exclaimed one guy. "Wow, we got some great pictures." said the other. Then I asked, "But how many people did you get in your shot?" "Oh that doesn't matter," came the reply, "I can Photoshop them all out!"

So here they are, clicking away, with not a care as to content, while I'm waiting, hoping, for the opportunity to get a true shot. I knew it was going to be hard, but somehow, just editing away all those people seemed like cheating. Patience paid off, I did manage to get some shots without people in it, or at least I think so. I won't know for sure until I look at the pictures and inspect the shoreline of Bear Lake at 100% in my photo editing software.

After Bear Lake I drove up to a good view point for Long's Peak, hoping to get a good sunset picture. I was there about an hour-and-a-half early, so I just relaxed and enjoyed the lighting play with the shadows over the mountains, and also did some people watching. Sorry, but I find people just as entertaining as watching the elk, if not more so. As sunset grew closer a few other people set up with their camera's and tripods, and one man in particular caught my attention. He was taking pictures on high speed, five or six pictures per second, of these mountains that were not moving, and of a sunset that had not yet begun. In fact, the lighting was terrible, and even when the sunset was at it's best, it was NOT impressive.

When I spoke to the man he had the same sentiment as the other people I spoke to at Bear Lake (and I actually spoke to several people there about this subject). He volunteered to tell me that he loved digital because you could take hundreds of pictures, and delete the bad ones.

I took five shots of that sunset, and the only reason I did that was to see what my camera could do. It's a new camera, and I'm still learning about it. I ended up deleting three of the five shots, and I kept two just for memories, and I may even delete those. The sun set was not good enough to take sell-able pictures.

I imagine this man looking at his pictures at home, and having a couple-hundred or more pictures to look through, many of which are identical to the previous one, and deleting, deleting, deleting. The thought makes me cringe, I HATE doing that. There are times I take a lot of pictures, but it will usually be in an action shot (for obvious reasons), but in a still picture, I don't think it's necessary, and as for taking pictures and deleting subjects from them, well here is what the Photographic Society of America says about Nature Photography (when entering pictures for competition):

Nature photography is restricted to the use of the photographic process to depict observations from all branches of natural history, except anthropology and archeology, in such a fashion that a well informed person will be able to identify the subject material and to certify as to its honest presentation. The story telling value of a photograph must be weighed more than the pictorial quality while maintaining high technical quality. Human elements shall not be present, except where those human elements enhance the nature story. The presence of scientific bands, scientific tags or radio collars on wild animals is permissible. Photographs of artificially produced hybrid plants or animals, mounted specimens, or obviously set arrangements, are ineligible, as is any form of manipulation that alters the truth of the photographic statement. No techniques that add to, relocate, replace, or remove pictorial elements except by cropping are permitted. Techniques that enhance the presentation of the photograph without changing the nature story or the pictorial content are permitted. All adjustments must appear natural. The removal, or manipulation, of colors contained within the original image to enable the production of monochrome images is permitted.
Copied from: http://psa-photo.org/divisions/nature/basics-and-background/

What do you think?