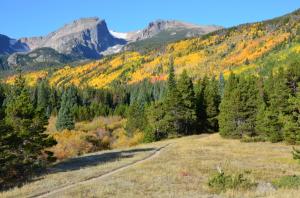 Early one morning last week I was out taking pictures of our breathtaking fall colors here in Rocky Mountain National Park. I arrived at Sprague Lake too late for the sunrise, but before the park visitors started to show up, and managed to get some people-free shots of the Mummy Range reflecting in Sprague Lake. After that I went on down the road to get a shot of Hallet's Peak and Flattop Mountain with a hillside of gold aspens and a meadow in the foreground.

The four parking spots were full, so I found an acceptable alternative parking space, and headed to the hillside I wanted to take my shot from. I had noticed another photographer in the parking lot, he had his tripod and camera in hand but was talking to someone. I headed up the hill, and took my first shot. I took two landscape pictures, with the meadow and the trail through it, when here came the other photographer, tripod over his shoulder, an eager walk. He started across the meadow, then looked up at me, paused and continued across the meadow. I waited for him to clear it, but instead he stopped right in the meadow and started to set up his tripod. He looked up at me again, and apparently decided my photography session was less important than his, because he finished setting up his tripod and started to take pictures. At this point there was no way I could get another shot of the meadow and the mountains behind it, without him being in the middle of my picture.

I was a little miffed to say the least. It would not have hurt him to ask me if it was okay for him to set up there? if I had got my shots? or if he was in the way? It would have been the polite thing to do. Most people are more thoughtful and respectful than that, people usually make an effort to get out of the way, not plant themselves right in the middle of your shot (at least not deliberately), and he had to know he was right in my shot, being the professional he appeared to be.

Fortunately, the first shot I took of the meadow and the mountains that day came out satisfactorily, and I didn't have to repeat the trip the next day. So where am I headed with this? Well I'm going to make a promise to you; This photographer promises to never deliberately plonk myself right in front of your camera. I hereby take an oath to always be respectful of my fellow photographers, be they professionals, amateurs, tourists or even children. Won't you please take this oath with me, and give everyone the opportunity to take the shot of a lifetime?