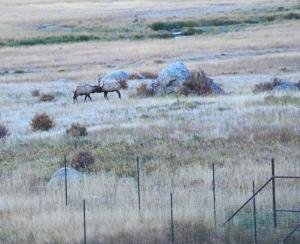 About three years ago Rocky Mountain National Park implemented a new Elk and Vegetation Management Plan due to the overpopulation of elk in the Estes Park and R.M.N.P. area. The plan relies on a variety of conservation tools including fencing, elk redistribution, vegetation restoration and culling.

For some people who live in the Estes Park area the thought of having our elk killed was hard to accept, however, although we knew it was going on, very few of us actually saw first-hand evidence of this process because it was implemented very carefully by the park service.

When it comes to the fencing though, it is impossible to ignore. I believe that around 190 acres of aspens and willows have been fenced in, and the elk have been fenced out. It is easy to see that for the stressed aspens and willows, and the various forms of wildlife that depend on this vegetation, this project is working. If you drive through Moraine Park, Beaver Meadows and Horseshoe Park, you will see miles and miles of fencing. The fenced in area is green and lush, and new aspens are growing. The outside area is over grazed, and the remaining aspens are clearly scarred and struggling.

What is hard to accept is the impact on the human eye. One does not come to a National Park and expect to see miles and miles of fencing sprawling across the meadows. I went out a couple of afternoons to watch the elk rut, but I had little luck in getting photographs of the elk without there being a fence in the foreground or background. Perhaps those photographers that have huge zoom lenses can zoom in past or over these fences, but for myself it was certainly a challenge.

There is still a little time left to watch the elk in action, and I'll probably make at least one more attempt to get that perfect shot. However, unless a bull brings his harem close enough for my 200 mm lens to handle, AND it's in an area where there is no fencing directly behind or alongside the elk, getting that perfect shot might not happen until another year.